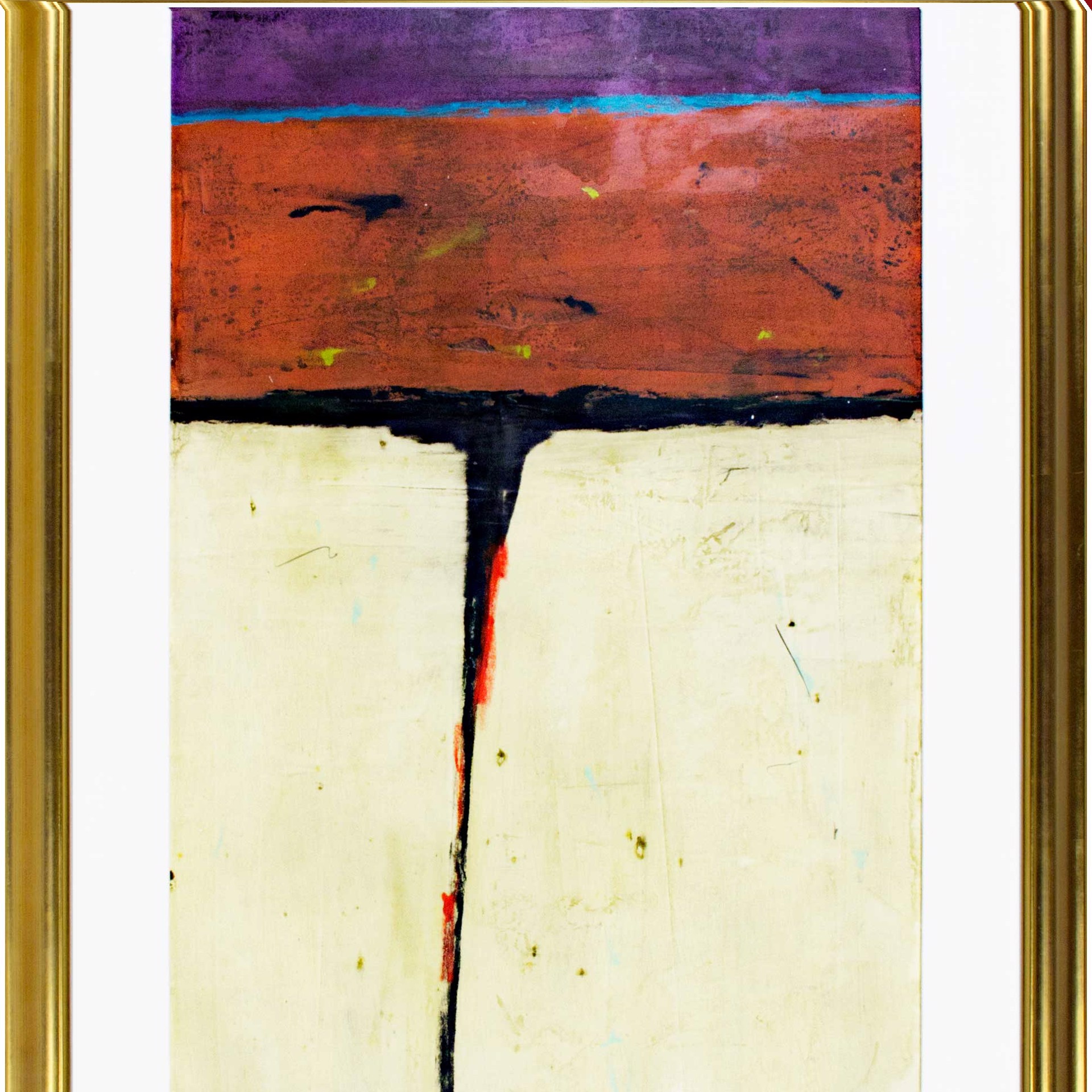 BORN 1947 - GRAND RAPIDS, MICHIGAN
His mother always thought he was just a little bit of a rebel. And not just because he mixed his paints and painted out of the lines on his paint-by-number pictures. To this day, John Baughman marches to his own drummer, which is apparent when viewing his multi-media artwork. That is also part of his charm. Growing up in rural Western Michigan, John was the oldest of five children. There were no artists in his family, but he was interested in drawing at a very young age; he differed from most young artists in that he wanted to be experimental rather than ordinary. A kind, neighbor lady, Paula Larson, who was a Director of Art, encouraged John to keep his interest in art by always leaving artistic materials on her kitchen table. They were open to him whenever he pleased.
John's father was an executive for GM and hoped his son would grow up to be an engineer. John loved to draw cars, and entered the contest that the company held every year to design autos for the future. Airplanes were something else he enjoyed drawing. During his high school years, John had several other buddies who enjoyed drawing as much as he did. In addition to that interest, he says they fished every stream in driving distance of home and loved sports. He played three sports in high school and still has a deep love for baseball.
After high school, John left for college which he says was a big mistake. He quit and joined the Navy where he was sent to Vietnam. There is no doubt in his mind that this experience influenced his painting. John went back to college after the Navy and attended seven different colleges changing his major many times. He still wasn't where he wanted to be. Defining his strengths, John knew he could write, draw and sell ideas making advertising seem almost ideal and quite appealing. John's foray into the business world went very well, and he eventually owned his own company.
During this time, he met a woman who was also an artist, and worked with her for several years. The two of them later married. John and his wife, Janet Richardson Baughman, bought acreage and moved there. Turning one of the buildings into a studio, the couple become "hot" in the art world and continued their artistic endeavors as well as running a business.
Of his art, John says, "Art is the core of my life." When viewing his abstract paintings, it is clear that he is not locked into one thing. Oils play a very important role in his art, but John is continually experimenting using new mediums. To say he is multi-media is almost an understatement. He is still an "out of the lines painter," and feels that it is very important for an artist to be willing to take a risk. An innate sense of arrangements and space plus his use of the color palette, which is all over the place, cause John's work to constantly change. A subject that he has painted, he may readdress, and it will look completely different. Inspiration for his art is all around him. Sometimes he finds it running between his legs when he is standing in a stream or perhaps looking at the beauty that surrounds him where he lives. As time has passed, his artistry has evolved into a more sophisticated look with his paintings now having more layers and texture.
John hopes that people viewing his art will find order and peace. John and Janet raise sport horses on their farm, and train them to be dressage (disciplined form of exhibition) horses. They feel the same passion for these animals as they do for their artwork. John still loves sports, and fishes as often as he can. Both he and his wife are golfers. Assuming the title of "sports uncle," John spends several evenings watching his three nephews play baseball. And still hugely important in their lives are their three grown children, who live in various parts of the country.
Janet remains John's largest influence in his artwork. He feels there are so many great artists that it is difficult for him to choose a favorite, but he does love Mark Rothko's work and emulates small elements. He also greatly admires Conrad Marcarelli. In the future, John says he always sees himself working. The couple may go to the region of Provence, France one summer and paint. Especially appealing to him would be to see and paint the lavender fields. Most importantly, to John, now and in the future, is that he is always doing the best that he can do at the moment. The gift this artist shares with all of us is his ability to "paint out of the lines."
Collections:
Pillsbury Corp., Minneapolis, MN
IBM Corp., New York, NY
Hyatt Corp., Chicago, IL
Steelcase, Inc., Grand Rapids, MI
Stow Davis Corp., Grand Rapids, MI
New Jersey Bell, Secaucas, NJ
American United Life, Indianapolis, IN
Proctor and Gamble, Cincinnati, OH
Northwestern University Hospital, Chicago, IL
Haworth, Inc., Holland, MI
Foremost Corp., Grand Rapids, MI
Marriott Hotel, Phoenix, AZ
Cunningham-Limp, Inc., Grand Rapids, MI
W.B.D.C., Inc. Grand Rapids, MI
Hobbs & Black Assoc., Inc., Ann Arbor, MI
Read More