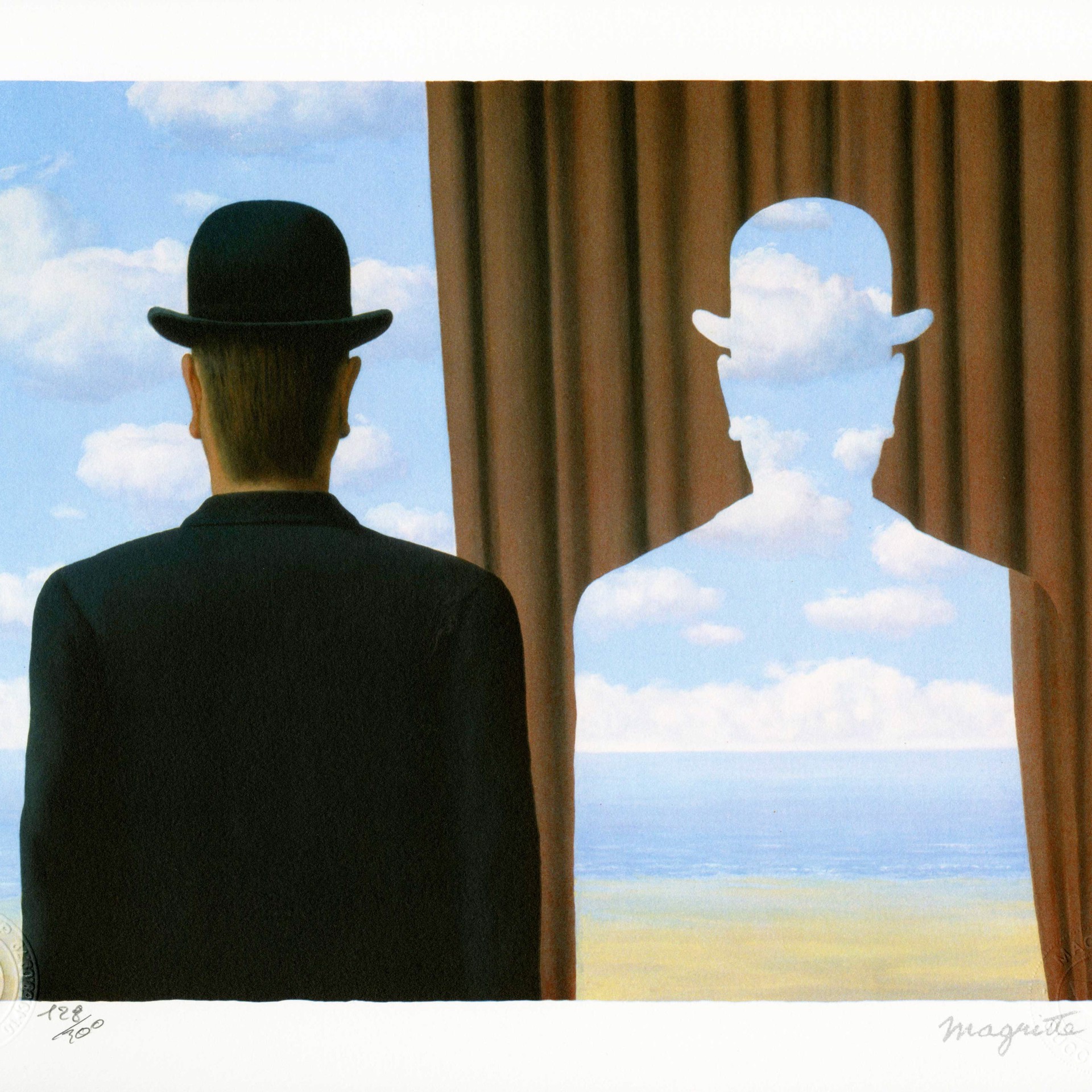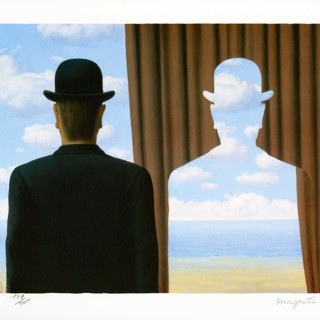 René-François-Ghislain Magritte was born November 21, 1898, in Lessines, Belgium and died on August 15, 1967 in Brussels. He is one of the most important surrealist artists. Through his art, Magritte creates humor and mystery with juxtapositions and shocking irregularities. Some of his hallmark motifs include the bourgeois "little man," bowler hats, apples, hidden faces, and contradictory texts.
René Magritte's father was a tailor and his mother was a miller. Tragedy struck Magritte's life when his mother committed suicide when he was only fourteen. Magritte and his two brothers were thereafter raised by their grandmother.
Magritte studied at the Brussels Academy of Fine Arts from 1916 to 1918. After graduating he worked as a wallpaper designer and in advertisement. It was during this period that he married Georgette Berger, whom he had known since they were teenagers.
In 1926, René Magritte signed a contract with the Brussels Art Gallery, which allowed him to quit his other jobs and focus completely on creating art. A year later he had his first solo show at the Galerie la Centaurie in Brussels. At this show Magritte exhibited what is today thought of as his first surrealist piece, The Lost Jockey, painted in 1926. In this work a jockey and his steed run across a theater stage, curtains parted on either side. Throughout the scene, there are trees with trunks shaped somewhat like chess pawns with musical scores running vertically up their sides and branches sticking out from all angles. Critics did not enjoy this style of art; it was new, different, and took critical thought to understand, but The Lost Jockey was only the first of many surrealist artworks Magritte would paint.
Because of the bad press in Brussels, René and Georgette moved to Paris in 1927, with the hope that this center of avant-garde art would bring him success and recognition. In Paris, he was able to become friends with many other surrealists, including André Breton and Paul Éluard. They were able to learn from and inspire one another, pushing the Surrealist movement further forward.
It was also in Paris that Magritte decided to add text to some of his pieces, which was one of the elements that made his artwork stand out. In 1929, he painted one of his most famous oil works: The Treachery of Images. This is the eye-catching piece centered on a pipe. Below the pipe is written "Ceci n'est pas un pipe," which translates to "This is not a pipe." This simple sentence upset many critics of the time, for of course it was a pipe. Magritte replied that it was not a pipe, but a representation of a pipe. One could not use this oil on canvas as a pipe, to fill it with tobacco and smoke it. Thus, it was not a pipe.
In 1930, Magritte and Georgette moved back to Brussels. Though they would travel to his exhibitions elsewhere, their home going forward would always be in Brussels.
Magritte had his first American exhibition at the Julien Levy Gallery in New York City in 1936 and his first show in England two years later in 1938 at The London Gallery. These shows helped propel his international fame.
Today René Magritte has two museums dedicated to his life and art, both in his home city of Brussels. The first of these is the René Magritte Museum, which is established in the home he and Georgette shared. This museum is biographical in nature and uses his life as a frame through which to understand his art. The other museum is The Magritte Museum, which is a part of the Royal Museum of Fine Arts in Brussels. This museum has over two-hundred and fifty of his works and is centered on his artistic expression.
Read More