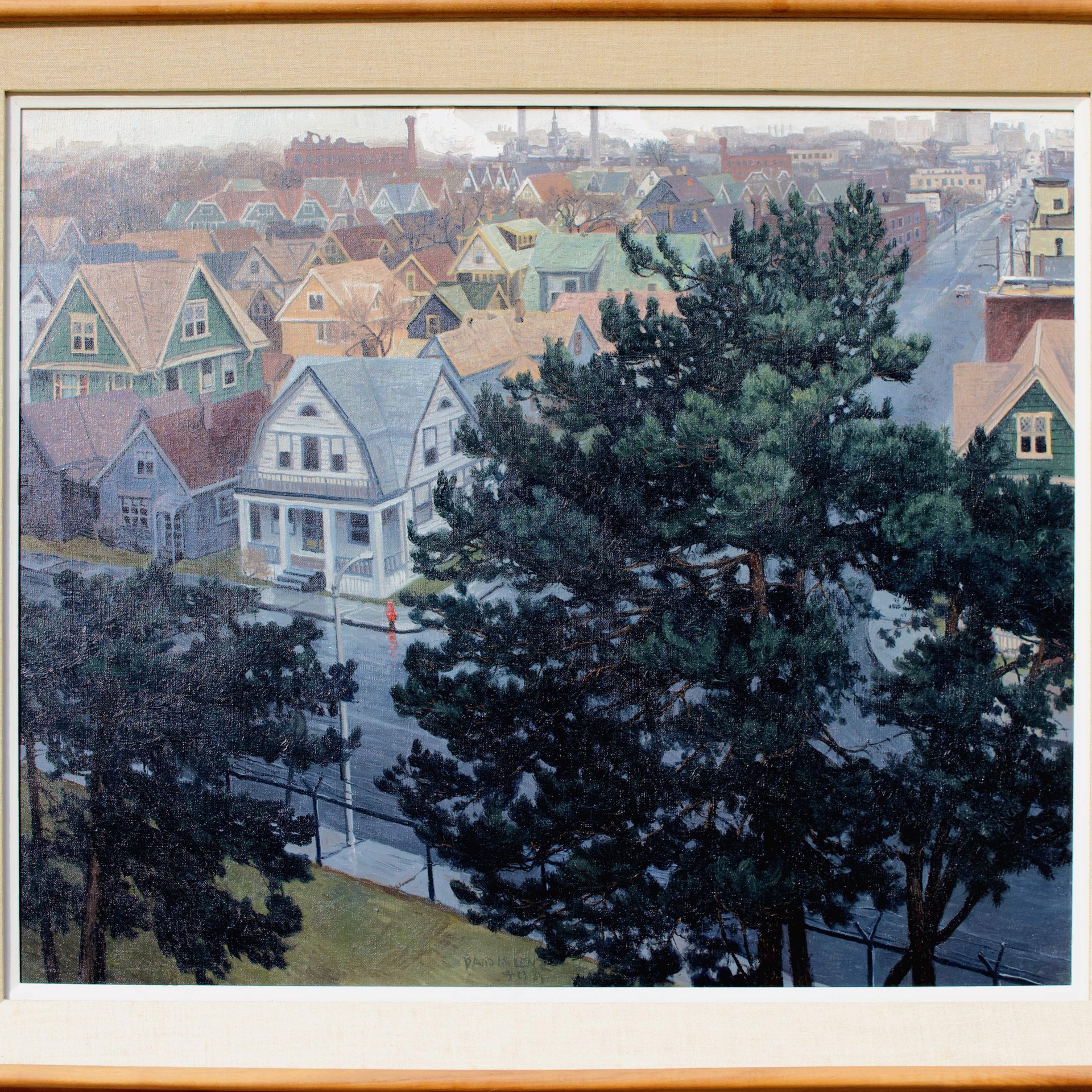 David Lenz is an American painter known for his photorealistic portraits and landscapes. From a family of artists and dealers, Lenz received a bachelor of fine arts degree from the University of Wisconsin–Milwaukee in 1985. In the spring of 1989, after four years in publishing and advertising as an art director, Lenz left commercial art to become a full-time fine artist. At first he painted landscapes based on his travels to northern Wisconsin and Quetico Provincial Park in Ontario, Canada. These early paintings were influenced greatly by Tom Uttech, a professor at the University of Wisconsin–Milwaukee, and by the luminous light quality of Hudson River School artists Albert Bierstadt, Frederic Church, and Sanford Gifford.
After moving to the east side of Milwaukee, Lenz began to paint the neighborhoods and people of the central city. The city's children, mostly African-American, very quickly became the focus of his paintings. In these works, completed between about 1990 and 2000, the hope and vitality of the children's faces contrasts starkly with the worn down reused sidewalks, streets, and houses of the central city.
In 1999, Lenz embarked on a series of paintings depicting the lives of Wisconsin dairy farmers Ervin and Mercedes Wagner. The never-ending work of dairy farming, the toll it takes on the body, and the cultural isolation of rural life are themes of this series. Between 2000 and 2005 Lenz almost exclusively painted pictures of the Wagners and their farm. This series has been exhibited extensively in regional museums throughout the Midwest. Thistles, completed in 2001, is perhaps the most widely reproduced and celebrated painting of the Wagner Farm series.
The third area of interest for the artist, paintings depicting the lives of people with intellectual disabilities, was inspired by the birth of his son Sam, who was born with Down syndrome. Lenz contemplated the series for eight years until, in the summer of 2005, he entered the first major painting of the series in the Outwin Boochever Portrait Competition.
Lenz's works follow the American tradition of photorealism and artists like Chuck Close, Richard Estes and Audrey Flack. Lenz starts a new painting by initially working out ideas in small pencil "thumbnail" drawings. He then photographs all the various elements of the image individually. These are used as the main reference material for the final painting. For a major work, he also completes an extensive array of color sketches. After the composition is fully developed, the image is drawn out carefully with pencil on a stretched canvas or board. Lenz's painting technique is quite traditional; straight oil paint is applied using small round sable brushes over a primed and warmly tinted linen canvas. His focus on downtrodden and emotive figures, however, show his debt to American Scene paintings of the mid-century including the isolated figures of Edward Hopper, the regionalist sensibility of Grant Wood, and by the symbolic meaning infused in the people and objects of Andrew Wyeth.
Besides winning the grand prize in the 2006 Outwin Boochever Portrait Competition, Lenz also was included in the 2006 Midwest Edition of New American Paintings. In 2008, Lenz was awarded a Wisconsin Visual Art Lifetime Achievement Award, and in 2009 he was inducted as a fellow of the Wisconsin Academy of Sciences, Arts and Letters. His works can be found in the Smithsonian's National Portrait Gallery and the Milwaukee Art Museum as well as various other private and corporate collections. [Biography adapted from Wikipedia]
Read More