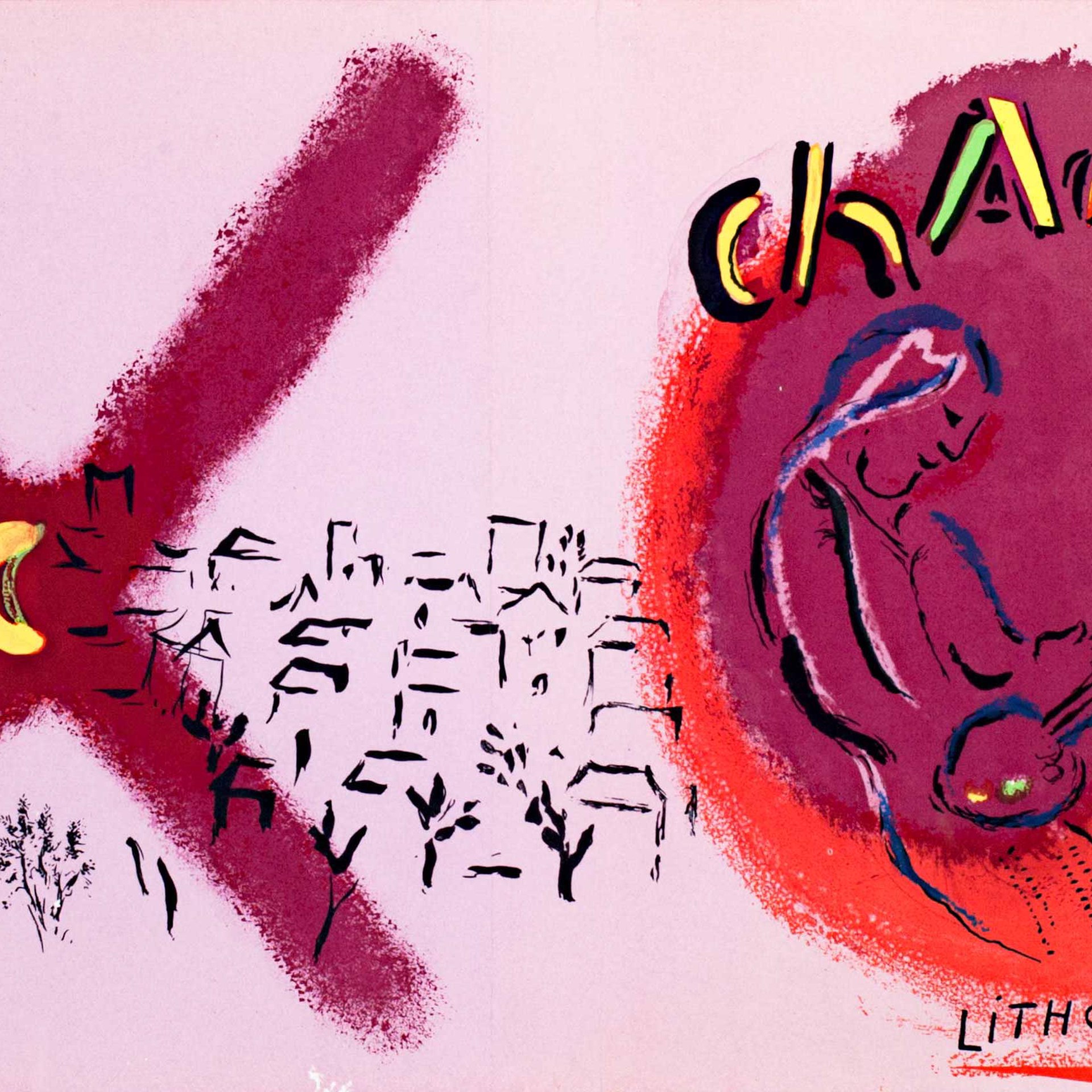 Marc Chagall was born in Liozno, near Vitebsk, now in Belarus, the eldest of nine children in a close-knit Jewish family led by his father Khatskl (Zakhar) Shagal, a herring merchant, and his mother, Feige-Ite. This period of his life, described as happy though impoverished, appears in references throughout Chagall's work. The family home on Pokrovskaya Street is now the Marc Chagall Museum.
He began studying painting in 1906 with a local artist, Yehuda Pen. In 1907, he moved to St. Petersburg. There he joined the school of the Society of Art Supporters and studied under Nikolai Roerich. It was here that he was exposed to experimental theater and the work of such artists as Gauguin. From 1908-1910 Chagall studied under Leon Bakst at the Zvantseva School of Drawing and Painting.
This was a difficult period for Chagall; at the time, Jewish residents were only allowed to live in St. Petersburg with a permit, and the artist was jailed for a brief period for an infringement of this restriction. Despite this, Chagall remained in St. Petersburg until 1910, and regularly visited his home town where, in 1909, he met his future wife, Bella Rosenfeld.
After gaining a reputation as an artist, Chagall left St. Petersburg to settle in Paris to be near the burgeoning art community in the Montparnasse district, where he developed friendships with such avant-garde luminaries as Guillaume Apollinaire, Robert Delaunay, and Fernand Léger. In 1914, he returned to Vitebsk and, a year later, married his fiancée, Bella. While in Russia, World War I erupted and, in 1916, the Chagalls had their first child, a daughter named Ida.
Chagall became an active participant in the Russian Revolution of 1917. Although the Soviet Ministry of Culture made him a Commissar of Art for the Vitebsk region, where he founded Vitebsk Museum of Modern Art and an art school, he did not fare well politically under the Soviet system. "Chagall was considered a non-person by the Soviets because he was Jewish and a painter whose work did not celebrate the heroics of the Soviet people."[6] He and his wife moved back to Paris in 1922. During this period, Chagall wrote articles, poetry and his memoirs (in Yiddish,) which were published mainly in newspapers (and only posthumously in book-form). Chagall became a French citizen in 1937.
With the Nazi occupation of France during World War II and the deportation of Jews, the Chagalls fled Paris, seeking asylum at Villa Air-Bel in Marseille, where the American journalist Varian Fry assisted in their escape from France through Spain and Portugal. In 1941, the Chagalls settled in the United States where he lived until 1948 (his wife Bella died in 1944.) His wife Bella, who appears in many of his paintings, bore him one child, Ida and then died on September 2, 1944. Bella and Ida appeared in many of his early and most famous paintings. In 1945, he began a relationship with his housekeeper Virginia Haggard McNeil, with whom he had a son, David. In the 1950s, they moved to a villa in Provence. Virginia left him in 1952, and Chagall married Valentina Brodsky (whom he called "Vava").
Jewish influence:
Chagall had a complex relationship with Judaism. On the one hand, he credited his Russian Jewish cultural background as being crucial to his artistic imagination. But however ambivalent he was about his religion, he could not avoid drawing upon his Jewish past for artistic material. As an adult, he was not a practicing Jew, but through his paintings and stained glass, he continually tried to suggest a more "universal message," using both Jewish and Christian themes.
Later life:
He traveled several times to Greece and visited Israel in 1957. During this time, he rediscovered a free and vibrant use of color. His works of this period are dedicated to love and the joy of life, with curved, sinuous figures. He also began to work in sculpture, ceramics, and stained glass. In a recent book review of Chagall's biography, author Serena Davies writes, "By the time he died in France in 1985 - the last surviving master of European modernism, outliving Joan Miró by two years - he had experienced at first hand the high hopes and crushing disappointments of the Russian revolution, and had witnessed the end of the Pale, the near annihilation of European Jewry, and the obliteration of Vitebsk, his home town, where only 118 of a population of 240,000 survived the Second World War.
She later adds that the book "leaves us finally with an image of a man who came from nowhere to achieve world-wide acclaim. Yet his fractured relationship with his Jewish identity - he was physically divorced from his homeland, and he wasn't a practising Jew - was unresolved and tragic. He would have died with no Jewish rites, had not a stranger stepped forward and said the kaddish, the Jewish prayer for the dead, over his coffin.
Read More